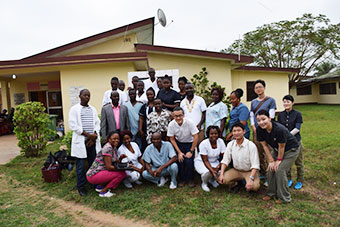 It has been 165 years, in 2022, the founding of the Nagasaki University School of Medicine, the oldest medical school in Japan. From the days of the School establishment by Dutch navy surgeon J.L.C. Pompe van Meerdervoort, education, clinical practice and research have developed based on close exchange with other countries.
These activities are moving forward today. While exchange was previously limited mainly to that between universities, a wealth of exchange is now also taking place at departmental, classroom, and individual levels, involving a wide range of individuals from nurses to laboratory technicians and students as well as doctors. The many non-Japanese individuals at Nagasaki University Hospital and within the School of Medicine give an international feel to the institution. The Nagasaki University Hospital International Medical Center functions as a point of contact for academic exchange with the rest of the world.
Please contact us not only to arrange hospital tours, but also with requests for collaboration in research and training.
This page shows the current status of academic exchange at Nagasaki University Hospital, the School of Medicine, the Institute of Tropical Medicine, and the Atomic Bomb Disease Institute and provides notifications about the latest news from Nagasaki University Hospital.
Global Activities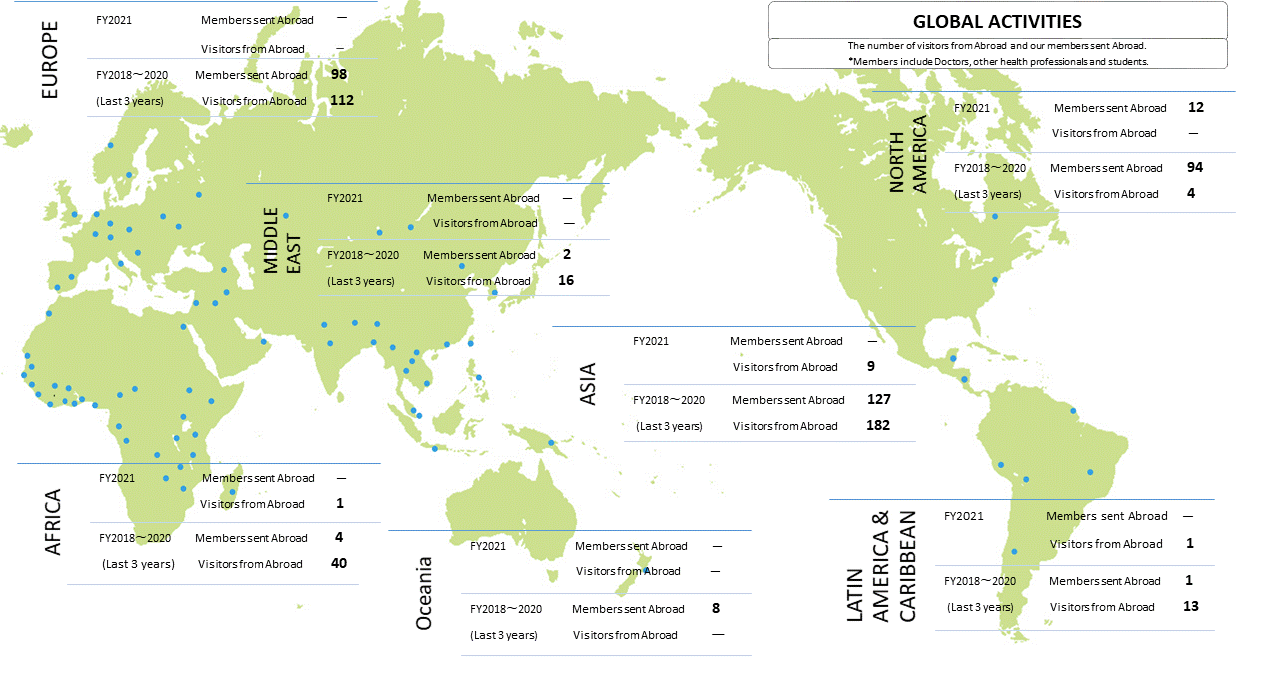 | FY | Departments | Members sent Abroad | Visitors from abroad | Countries | Training |
| --- | --- | --- | --- | --- | --- |
| 2021 | Clinical Oncology Center | | | Worldwide | World Lung Cancer Society_WEB participation by zoom |
| 2021 | Clinical Oncology Center | | | AsiaOcean | Asia-Oceania Radiation Society 2021 (Symposium Chair) |
| 2021 | Clinical Oncology Center | | | United States of America | American Society of Clinical Oncology 2021_WEB participation by zoom |
| 2021 | Clinical Oncology Center | | | Korea | Korean Radiation Society 2021. Invited lecture (WEB lecture by zoom) |
| 2021 | Clinical Oncology Center | | | Worldwide | World Lung Cancer Society |
| 2021 | Clinical Oncology Center | | | United States of America | Radiological Society of North America |
| 2021 | Clinical Oncology Center | | | Taiwan | 6th Taiwan-Japan Academic Research Organization Workshop with Taiwan Clinical trial consortium. |
| 2021 | Transplantation and gastroenterological surgery | 1 | | United States of America | Study abroad at University of Miami. Implementation of tours, inspections, training, etc. (over a year) |
| 2021 | Transplantation and gastroenterological surgery | 1 | | United States of America | Boston Pediatrics Ward. Implementation of tours, inspections, training, etc. (over a year) 2019.1.31-2021.7.28 |
| 2021 | Transplantation and gastroenterological surgery | | 1 | China | Acceptance of international students from North China University of Science and Technology (over a year) |
| 2021 | Transplantation and gastroenterological surgery | | 1 | China | Guangzhou First People's Hospital. Research-related (participation in academic societies, research meetings, etc.) (over a year) |
| 2021 | Transplantation and gastroenterological surgery | | | China | Guangzhou First People's Clinic_Online Symposium |
| 2021 | Transplantation and gastroenterological surgery | 1 | | United States of America | Studying abroad at University of Maiami. (More than a year) |
| 2021 | Transplantation and gastroenterological surgery | | | Netherlands | Online Conference, IASGO-CME2021 with Utrecht University. |
| 2021 | Transplantation and gastroenterological surgery | | | Kazakhstan | Online Conference, IASGO-CME2021 with Kazakhstan, Zekelgen Arzikulov Sizganov National Surgical Science Centre. |
| 2021 | Transplantation and gastroenterological surgery | | | Korea | Online Conference, IASGO-CME2021 with Seoul National University. |
| 2021 | Transplantation and gastroenterological surgery | | 1 | China | Acceptance of international students from North China University of Science and Technology (over a year) |
| 2021 | Transplantation and gastroenterological surgery | | 1 | China | Acceptance of internatioal students from Guangzhou First People's Hospital. Research-related (participation in academic societies, research meetings, etc.) (over a year) |
| 2021 | Transplantation and gastroenterological surgery | | 1 | China | Acceptance of international students from hospital in Jinan, China. |
| 2021 | Transplantation and gastroenterological surgery | | | Republic of Turkey | Online Conference, IASGO-CME2021 with Marmara University. |
| 2021 | Transplantation and gastroenterological surgery | | | United States of America | Online Conference, IASGO-CME2021 with Harvard University. |
| 2021 | Transplantation and gastroenterological surgery | | | Korea | Online Conference, IASGO-CME2021 with Korea University. |
| 2021 | Ophthalmology | | 1 | China | International students admitted (Since2019.Oct) |
| 2021 | Ophthalmology | | 1 | China | International students admitted (Since2019.Oct) |
| 2021 | Central Laboratory Diagnostics | 1 | | United States of America | Study abroad at the University of Michigan (ongoing since August 2020) |
| 2021 | Respiratory medicine | 1 | | United States of America | Study abroad at Sloan Kettering Cancer Center (over a year) |
| 2021 | Dental preservation treatment room | | 1 | Bangladesh | Currently enrolled in the Institute of Medical, Dental and Pharmaceutical Sciences (more than 1 year) |
| 2021 | Dental preservation treatment room | | 1 | Bangladesh | Currently enrolled in the Institute of Medical, Dental and Pharmaceutical Sciences (more than 1 year) |
| 2021 | Surgical Oncology | | | United States of America | University of Yale. Implementation of tours, inspections, training, etc. (3 years) |
| 2021 | Surgical Oncology | 1 | | Canada | University of Toronto. Implementation of tours, inspections, training, etc. (3 years) |
| 2021 | Surgical Oncology | 1 | | Canada | Study abroad at University of Toronto. Implementation of tours, inspections, training, etc. (3 years) |
| 2021 | Cardiovascular Medicine | | 1 | Bolivia | Studying abroad at San Puan Clinic. (2021.Oct-2025.Sep30) |
| 2021 | Gastroenterology and Hepatology | 1 | | United States of America | Study abroad as an assistant professor at The University of Michigan. Research-related (participation in academic societies, research meetings, etc.) (2 years) |
| 2021 | Gastroenterology and Hepatology | 1 | | United States of America | Study abroad as an assistant professor at The University of Michigan. Research-related (participation in academic societies, research meetings, etc.) (2 years) |
| 2021 | Cardiovascular Surgery | 1 | | United States of America | Study abroad at Emory University (initially planned from August 31, 2015 to July 31, 2017) 2021.9 Currently studying abroad. |
| 2021 | Neuropsychiatry | 1 | | United States of America | Study abroad at Thomas Jefferson University. Implementation of tours, inspections, training, etc. |
| 2021 | Department of Pathology | | 1 | Congo | Acceptance of government-sponsored student. |
| 2021 | Neurosurgery | 1 | | United States of America | Study abroad at the University of Washington (2021.5-2 years) |
Achievements 2020
Achievements 2019
Achievements 2018
Achievements 2017