Floor guide
The International Medical Center received funding from Nagasaki Prefecture to upgrade its facilities to handle Class I and II infections, pandemic influenza, and other fatal infectious diseases. The facility is designed to prevent outward air leakage and a strict setup is in place to prevent direct contact with infected patients. Attention is also given to aspects of the medical environment such as patient transfer routes and staff movements, enabling the provision of safe and rapid medical care.
As of October 1, 2016, there are 49 medical facilities (91 beds) nationwide with wards capable of handling Class I infections and the Nagasaki University Hospital International Medical Center is the only such facility in Nagasaki prefecture.
*Infectious diseases are categorized from Class I to Class V based on the Law Concerning the Prevention of Infections and Medical Care for Patients of Infections. Class I infections comprise the following seven diseases: Ebola hemorrhagic fever, Crimean-Congo hemorrhagic fever, smallpox, South American hemorrhagic fevers, plague, Marburg virus disease, and Lassa fever. Class II infections comprise five diseases including poliomyelitis and diphtheria.
Wards: Class I Infections (2 beds); Tuberculosis (6 beds), and Infectious Diseases (16 beds).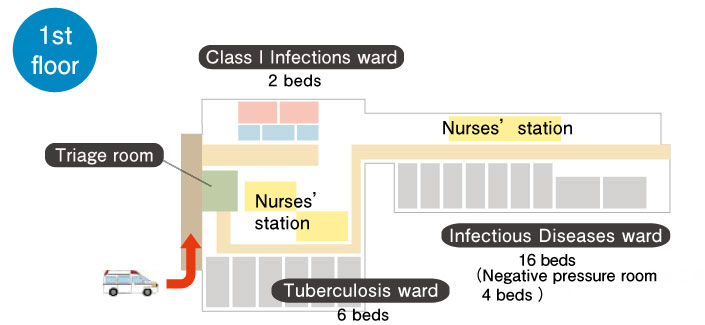 The Emergency Medical Center (19 beds) is located on the 2nd floor, providing treatment for critically ill patients.
Ward: Emergency Medical Center (19 beds)

Selection by the Ministry of Education, Culture, Sports, Science and Technology's Global Centers of Excellence Program has drawn attention to the content and results of Nagasaki University's research in the fields of tropical and infectious disease and radiation exposure medicine. With bases of operation at two overseas locations, our cutting edge research and collection of up-to-the-minute information are domestically and internationally acclaimed.
At the International Medical Center, we have established specialist research groups to foster leaders of such research.
Research wards: International Hibakusha Medical Center; Department of Infectious Diseases (Clinical Department of the Institute of Tropical Medicine, NEKKEN-NAIKA) Infection Control and Education Center; Emergency Medical Center
Infection Control and Education Center
Globalization and advances in medical skills and technology are generating major changes in the environment surrounding infectious diseases. Problems include the incidence of infectious diseases not conventionally seen in Japan and the emergence of new drug-resistant bacteria. Little progress has been made regarding the development of new antimicrobials, leading to a sense of impending crisis even in medical circles.
Adequate epidemiological data collection and the implementation of countermeasures are required regarding both nosocomial- and community-acquired infections. Meanwhile, it is also necessary to balance the need to protect patients against the need to protect antimicrobials, which benefit all mankind. The fight is against microorganisms invisible to the naked eye; thus, we must devise appropriate strategies to tackle the problem. With these issues in mind, the Infection Control and Education Center established three action targets in February 2006: 1) infection control, 2) epidemiological study of infectious diseeases, and 3) education of infectious disease and infection control .
Further information: http://www.mh.nagasaki-u.ac.jp/nice/
Koichi IZUMIKAWA
Director
Infection Control and Education Center
Nagasaki University Hospital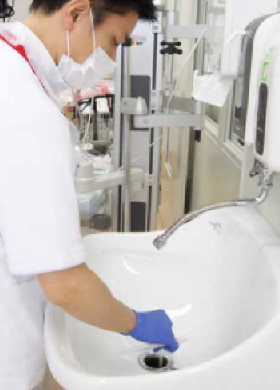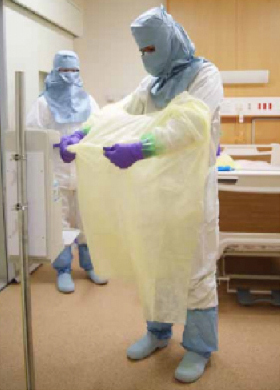 International Hibakusha Medical Center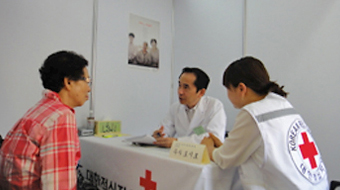 In continuation of the spirit of Professor Takashi Nagai, the Takashi Nagai Memorial International Hibakusha Medical Center was established at Nagasaki University Hospital on April 1, 2003. Its mission is to provide comprehensive medical care ranging from screening to advanced medical treatment for radiation survivors from Japan and overseas, including survivors of the Nagasaki atomic bombing.
The Center also coordinates with the Atomic Bomb Disease Institute to train individuals who can make a difference in a wide range of areas in international society. As part of their training, junior doctors share responsibility for outpatient chemotherapy and clinical trials with specialists, acquire skills in molecular diagnosis and molecular targeting therapies, and participate in comprehensive care and cure. After training, doctors are expected to become accomplished specialists in radiation exposure medicine around the world, make an international contribution, be capable of rapidly responding in a nuclear disaster, and work extensively in social medicine. Along with the establishment of outstanding examination, treatment, and training systems unique to Nagasaki University Hospital, our goal is to foster medical personnel who prioritize respect for life.
Shunichi YAMASHITA
Director
International Hibakusha Medical Center Nagasaki University Hospital
Emergency Medical Center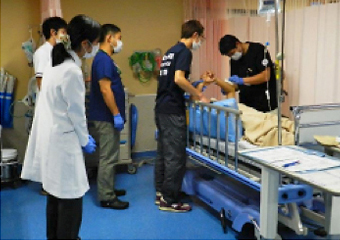 The Nagasaki University Hospital Emergency Medical Center was established in April 2010 as the only tertiary emergency medical center in the Nagasaki healthcare region. For the last 6 years or so, Nagasaki University Hospital has functioned as a final stronghold of community medicine. Meanwhile, the proportion of non-Japanese patients is continually rising, even in emergency medicine. In our capacity as an emergency medical center at a university hospital, our goal is to establish a system that enables us to handle emergency patients of various nationalities. We are also putting significant effort into training and education for medical professionals and students from overseas.
Further information: http://www.mh.nagasaki-u.ac.jp/emc/
Osamu Tasaki
Director
Nagasaki University Hospital Emergency Medical Center
Department of Infectious Diseases (Clinical Department of the Institute of Tropical Medicine, NEKKEN-NAIKA)
Our department was moved to the Nagasaki University. The Department of Infectious Diseases in the Nagasaki University Hospital Medical Center is clinical department of the Institute of Tropical Medicine, "NEKKEN-NAIKA" in Japanese abbreviation. Together with the Emergency Medical Center and International Hibakusha Medical Center, we provide clinical care for patients with infectious and respiratory diseases in the ward of the International Medical Center. Recent globalization has increased the need of training doctors who are knowledgeable in emerging and reemerging infectious diseases including tropical infectious diseases. THe national infectious disease hospital, San Lazaro Hospital in the Philippines is our base to provid clinical training for japanese doctors. We also conduct clinical research on AIDS, tuberculosis, tropical diseases, and other communicable illnesses in Japan and developing countries in southeast Asia and Africa. One example of progress is being made by the large-scale Adult Pneumonia Study Group-Japan.
For more information about our research, click here.(http://www.tm.nagasaki-u.ac.jp/internal/hashira3.htm)
Our aims are to establish a distinctive system for nurturing global doctors capable of working anywhere in the world in clinical management, training and research.
Koya Ariyoshi
Director
Department of Infectious Diseases (NEKKEN NAIKA)