Characteristics of Nagasaki University Hospital
As the only university hospital in Nagasaki prefecture, we are responsible for providing all advanced medical care within the region. The number of surgeries are annually increasing. Transplant medicine is one example of advanced medicine. While currently at the forefront of efforts in Japan to successfully perform kidney transplants, we have been approved for liver transplants since 2003, lung transplants since 2005 , and islet cell and pancreas transplants since 2016.
Through visits to Kazakhstan and elsewhere, we are able to teach the skills required to perform liver transplants to doctors in other countries. Meanwhile, we actively accept international students and trainees and are currently developing medical education that befits the international character of Nagasaki.
In the field of infectious disease research and treatment, we get a glimpse into the unique historical background of Nagasaki, a former international trading post. We are proud of our prominence in infectious disease research even within Japan, with many doctors in Japan and around the world taking an interest in the research conducted at Nagasaki University Hospital.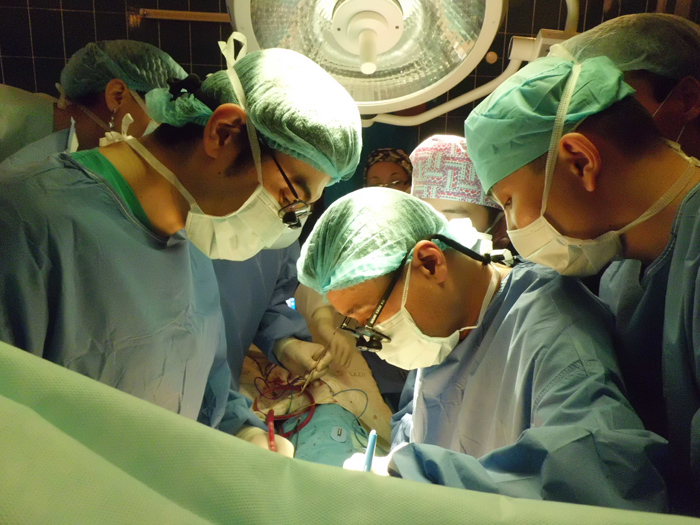 Our Department of Surgery team, responsible for teaching transplant skills overseas (eg. liver transplantation in Kazakhstan)
Hospital history
In its role as a trading post opened to provide Japan's only contact with the West through its trade with the Netherlands, Nagasaki used to possess the latest Western knowledge. As well as natural science and astronomy, this knowledge also extended to Western medicine. The other side of this international character was its susceptibility to cholera and other infectious diseases brought by Dutch ships from their passage through Southeast Asia.
Through his attempts to treat the cholera epidemic in Nagasaki, Dutch doctor J.L.C. Pompe van Meerdervoort helped to deepen the understanding of Japan's feudal government regarding Western medicine. Pompe van Meerdervoort taught Western medicine systemically in a classroom setting and was given approval to open Japan's first teaching hospital able to provide medical instruction during bedside examinations. Thus, Japan's first Western-style hospital, "Nagasaki Yojosho", was established. This facility is now Nagasaki University Hospital. Through the provision of medical education in addition to bedside treatment, Nagasaki Yojosho laid the foundation of clinical medicine and was the forerunner of today's university hospitals in Japan. Since its establishment, this facility has produced individuals able to shoulder medical care in modern-day Japan and has contributed to the development of Japanese medicine.
In 1945, the atomic bomb dropped on Nagasaki cast a dark shadow on this shining history. The facility suffered catastrophic damage and just over 850 students, doctors, and nurses lost their lives. The hospital was beautifully rebuilt during the town's postwar reconstruction. Using our experience in treating atomic bomb survivors, we began making international contributions to the field of radiation exposure medicine through activities such as treating and screening survivors of the nuclear disaster in Chernobyl in the former Soviet Union and providing medical support following the Fukushima Daiichi nuclear disaster.


Left: Nagasaki Yojosho, an illustaration from Five years in Japan, Pompe van Meerdervoort (1868) Leiden,
the Netherlands (Collection of the Nagasaki University Economics Library)
Note: Original title: Viff Jaren in Japan.1857-1863, Pompe van Meerdervoort
Right: Photograph of the Nagasaki Medical College Hospital taken immediately after the atomic bomb.
Returned photograph from the he U.S Armed Forces Institute of Pathology.
(Collection of the Atomic Bomb Disease Institute, Nagasaki University)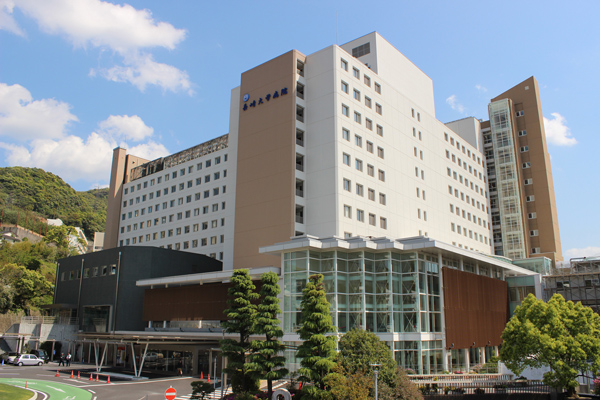 Today, Nagasaki University Hospital provides emergency and advanced medical care.