Meeting the need for urgent medical care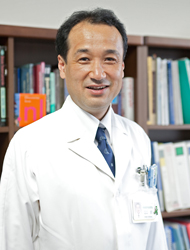 The Nagasaki University Hospital International Medical Center was established in 2011 and now oversees the running of the Infection Control and Education Center, the Department of Infectious Diseases (Clinical Department of the Institute of Tropical Medicine, NEKKEN-NAIKA), the Emergency Medical Center, and the International Hibakusha Medical Center. Recent national policy focus on the internationalization of medicine has encouraged university hospitals in Japan to increase their efforts toward making an international contribution. For many years, Nagasaki University has been at the forefront of the expansion of international medicine in Japan. However, perhaps due to its recognition primarily as a center for research, the University has traditionally been perceived as engaging only in international research and not international clinical medicine. The University's activity of conducting outbound medicine in the form of medical education and guidance has not been recognized within Japan. My aim is to fully utilize the existing capacity of the International Medical Center and to expand its role in today's global society as part of Nagasaki University Hospital.
Specifically, our goal is to raise the profile of our activities in international medicine, which include: 1) inbound medicine (examination and treatment of non-Japanese patients, particularly in fields such as advanced medicine, radiation exposure medicine, and infectious diseases); 2) outbound medicine (exporting the hospital's medical skills and technology); 3) international medical cooperation; 4) accepting medical professionals from overseas for education and training; and 5) educating medical students from partner universities. We are an advanced medical facility and these activities are unrelated to those included in medical tourism, such as health screenings.
While each department will be responsible for education and patient examination and treatment, I would also like to use them to collect and provide information.
I was appointed Director of the International Medical Center in April 2016 and, although my personal background is in gastrointestinal surgery, I intend to put every effort into my new role in international medicine. I am grateful for everyone's cooperation and support.
Susumu Eguchi
MD, FACS, FEBS
Director, International Medical Center